In addition to regular weekly worship services on Sunday mornings, the church ministers through a number of unique special worship experiences throughout the year: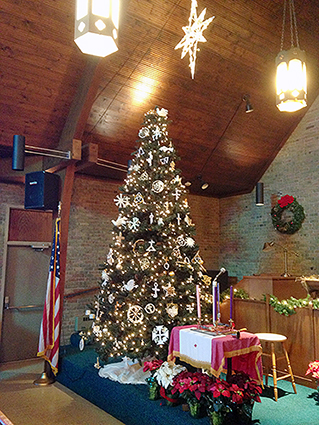 On Christmas Eve, following an instrumental musical presentation at 6:30 pm, a Christmas Eve Service is held at 7:00 pm, featuring the church's choir, a brief message with storytelling and contemporary illustration, and several vocal and instrumental musical offerings. It concludes with the congregation lighting candles while sharing in a familiar seasonal carol. For several years, our church has been very blessed to have renowned operatic soprano Jenny Lynn Stewart from New York City play a significant role in the service and several other area artists frequently take part, including accomplished singer Bertha Beach, award-winning artists Sheila Burke and Joe Kidd, acclaimed French horn player Dinah Malosh, young cellist Robert Malosh, Jr., gifted organist Susan List, and the church's pianist, Denise Niebrzydowski, among many others.
Recognizing that the Christmas season does not conclude until the twelfth day, the Feast of Epiphany, our church hosts a service of prayer, song, and enjoyable gift-giving on January 6 at 7:00pm. On occasion, a soup or light meal is offered prior to worship. As the Wise Men left gifts for the Christ-child, participants are invited to leave practical gifts, small and large, for the use of the church in the coming year. It is a meaningful and joyful way to begin the new year.
The season of Lent starts on Ash Wednesday. On Ash Wednesday, a potluck meal is shared at 6:00 pm, with worship including the optional placement of ashes occurring at 7:00 pm. Toward the end of the forty days, a Maundy Thursday Potluck Love Feast takes place at 6:00 pm flowing into a Service of Darkness in which the Last Supper with Jesus and his disciples is remembered through the partaking of communion by intinction (the dipping of the bread into the cup) and the visit of Jesus and his followers to the Garden of Gethsemane leading to his betrayal and arrest is recalled.
An Easter Sonrise Service takes place at our church at 6:30 am greet the risen Christ anew with song, prayer, and message with the sun rising above our church grounds. Immediately after an Easter Breakfast at the church building beginning at 9:00 am, there is a full Easter Morning Worship Service (10:30am) in the sanctuary with much special music by the choir and others and a celebration of Christ's resurrection.
On All-Saints' Day, November 1, at 7:00 pm, a memorial service honors all those members, active friends, and family members who have entered eternal life throughout the previous year. This is a very important occasion for the community to reflect, remember, and rejoice in the lives that have impacted the faith journeys of many.
For a number of years, on the night before Thanksgiving at 7:00 pm, a 17th Century Worship Service, preceded at 6:00 pm with a potluck, has taken members, friends, and many visitors back in time to share in some of the practices—in a light-hearted and not-too-serious way—of the earliest Congregationalists who worshipped in this country. Hats and bonnets are provided for the evening and several leaders direct the process that brings much appreciation and enjoyment of Congregational history to participants. There are also opportunities for various individuals to speak briefly about how they are thankful for what God has done for them in the previous year. All of these worship offerings are open to the public.